By Kellie Lail
One of the most important recruiting tools in the current market is ensuring that you have a positive online presence. Remember, candidates are interviewing you just as much as you are interviewing them. Having a positive online presence is going to provide your candidates with more knowledge and information about you and your agency. You want to ensure that there is enough information for them to get a good idea of who you are, what your culture is, and who might be a good fit to join your existing team. This means being active on social media, responding to reviews left for your agency (both positive and negative), and utilizing your IdealTraits Career Page.
With your subscription, IdealTraits gives you the opportunity to customize your own Career Page to match your company brand. This is a great feature to use as another tool to spread the word that you are looking to add staff to your team. With the Career Page, you are able to customize the color theme to one of our 11 options. We also have a library full of banner images, or the option to upload your own if you'd like to make it more personal. You can add links to your social media pages and even write a company description so that candidates can easily learn more about you.
So, what is the Career Page? This is a full-service site that you can link on your existing website, share on social media, or even link in your email signature. It showcases your company brand, culture, and open employment opportunities. This is an additional tool you can use to advertise your open positions off the job boards while also giving possible candidates a better insight into your company before applying.
Accessing my Career Page
To view or edit your Career Page, first, you'll want to Log In to IdealTraits. Click the Settings gear in the top right corner of your screen and select Hiring Settings. You'll see a menu on the left-hand side of the page where you will select Career Page. Any changes made to your Career Page are automatically saved within the system, so you can come back and edit the Career Page at any time. Any changes made to your career page will also reflect on the different job ad websites as well as anywhere you shared the link to your Career Page.

Career Page Settings
Color Theme: We have 11 different color theme options you can choose from to most closely match your brand personality. To see what the options will look like, click the Preview Page button at the top right corner of the Career Page screen.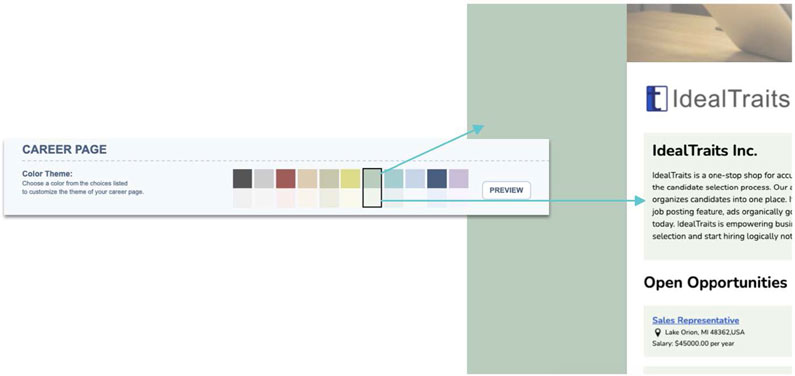 Link Color: This allows you to choose the color that any links will appear on your Career Page. This would include the titles of each Active job ad and your website URL. Again, we have 11 color options that you can choose from. You can use the Preview Page at any time to get a glance at your customized Career Page.

Banner Image: The banner image will display at the top of your Career Page and at the top of any unique job ad URL. You can choose an image from our library of 31 pre-sized options, or you can upload your own Banner Image if you'd like to add a bit more of a personal touch. If you are uploading your own Banner Image, you want to make sure that the image dimensions are 1856 X 600 pixels to ensure the best image quality. This is where you can really personalize the Career Page. Consider uploading your own Banner Image with a picture of your office location, a picture of your current team, or a picture from an event you've held or attended with your business. This is just another way to help candidates put a face to the name and really begin to build a connection with your business as they begin the application process.


Company Description: This is your opportunity to tell potential candidates what you want them to know about your business. You can talk about your company history and accomplishments, your company culture and office environment, and anything else you think candidates would be interested in knowing about you. Don't be afraid to show off a little bit! You should be telling candidates a story about you and your agency that explains to them why they should want to come work for you. We do have templates available for you to use, but you should really put some thought into this section of the Career Page to add your own personality.

Social Media: Toward the bottom of the Career Page edit screen, you'll see boxes where you can copy and paste the links to your existing Facebook, LinkedIn, Twitter, and Instagram accounts. This will create icons for those social media sites at the bottom of your Career Page. When potential candidates or anyone who views your Career Page clicks these icons, it will direct them straight to your social media sites with just a click of a button.

Where to Share my Career Page
When you are hiring, it is important to use multiple sources to find candidates, rather than just relying on the job boards. Now, more than ever, this is so important. There are currently more jobs on the boards than there are candidates searching, so to give yourself the best chance of finding an awesome candidate, you have to jump into your recruiting.
Social Media: You should be sharing your Career Page on your social media regularly! You want to let people know that they can check it out to see your open opportunities. The cool thing about the Career Page is that it will constantly update for you automatically as you post and remove new job opportunities. Links to all of your Active job ads will appear on the Career Page for you so potential candidates looking at your social media will always know what roles you are looking to fill. The more often you can share this link, the better! Make sure to ask your current employees, friends, and family, to help you spread the word as well.
Company Website: If you already have your own website, you can get the custom script for the Career Page from the very bottom of the edit screen. You can use this code to easily link your career page to your website for more advertising.
Email Signature: This is one of the easiest ways to spread the word that you are hiring! I always recommend adding a line at the bottom of your email signature that says something like "We're Hiring!" or "Check out our open job opportunities." You can hyperlink the text with a link to your Career Page so people can easily go from an email from you, to your career page, to an applicant.
The Big Picture:
The IdealTraits Career Page feature is a great and easy way to introduce candidates to your business and to have one place in which you can spread the word that you are hiring. As I mentioned before, in this market you want to use as many tools as you possibly can not only to find candidates but to set yourself apart from the competition. The more a candidate can learn about you in just a few clicks, the better idea they will have of what they are walking into by applying for your agency. You want them to know who they are going to potentially be working for, what your values are, and what your company culture is to ensure that their goals align with yours. This is going to give you the best chance of making a hire that is going to be an asset to your team that will be able to fall into step with you as quickly as possible.
If you have additional questions about customizing your Career Page or how to utilize other features within your IdealTraits platform, check out our Help Center.
As always, if you have any questions or concerns you can send a message to our Client Support team using the blue chat bubble on your IdealTraits screen and we will do everything we can to help you out!