By Kellie Lail
IdealTraits is proud to be partnered with Indeed to feature the Indeed Sponsored Jobs Integration within our platform. This integration allows you the opportunity to sponsor your job ads through Indeed, directly from your IdealTraits account.
Indeed is the world's #1 job site1, with 300 million global unique visitors every month2 and sites in over 60 countries. By providing access to great talent from all different fields, Indeed helps employers of all sizes find and hire the right talent for them.
To learn more about how Indeed helps millions of job seekers and employers find the right fit every day, visit indeed.com
Sponsored Jobs are 4.5x more likely to result in a hire3.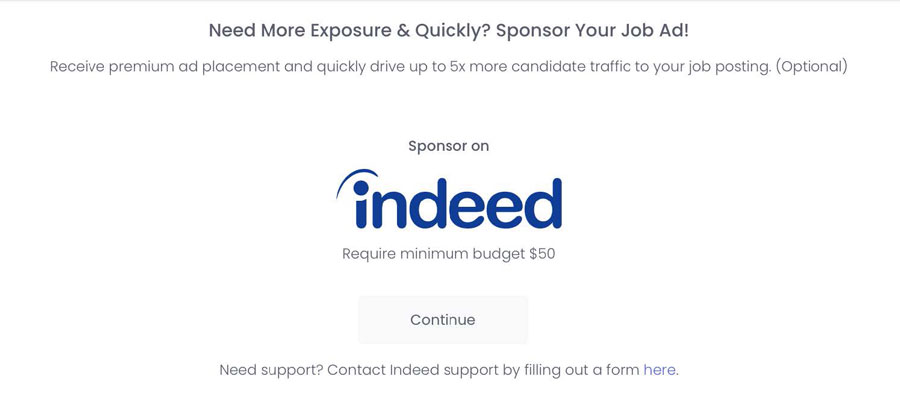 After posting a job in our IdealTraits account, you will be given the option to add a sponsorship budget. Click "Continue" to set up your Indeed campaign. With the Indeed Sponsored Jobs Integration, you can connect your existing Indeed account to your IdealTraits account to sponsor your ad and keep track of the progress of your budget.
If you do not have an Indeed account, you can simply insert the email address you would like to use to create an Indeed account and click "Connect."
When you have successfully logged into/created your Indeed account, you will be redirected to IdealTraits and prompted to set a budget for your sponsored job ad. Once you've set your budget, select "Create Campaign."
The Indeed Sponsored Jobs Integration will also provide you with Suggested Budget options based on the competition and sponsorship trends in your area to ensure your budget is set up for success.
The Indeed Sponsored Jobs Integration offers flexibility with the ability to change your budget at any time throughout the process depending on your needs. This means you can always increase your budget if you need more traffic, or even end your sponsorship early if you make your perfect hire more quickly than expected.
To learn more about setting your sponsorship budget, viewing analytics and job performance, and tips for sponsoring on Indeed, check out this Help Center article.
---
1 Comscore, Total Visits, September 2021
2 Indeed Internal Data, average monthly unique visitors April-September 2022 Terms, conditions, quality standards and usage limits apply
3 Indeed data (worldwide)