By Eric Waldowski
Writing an ad for a role in your agency or small business can be both daunting and exciting, trying to balance out setting correct expectations for a well-qualified candidate who applies while trying to steer less qualified applicants away. Or at least that's how we thought we should approach advertising new opportunities. Today, we will focus on how competitive the ad is, not how to write a great job description or overall ad. Check out these additional posts for more tips on overall ad creation.
I talk often in these posts about the rapid changes in the job market over the last few years, with regard to competition, candidate preferences, and technology. This topic is no different as the technology of the job boards has made applying for jobs an almost effortless task for any candidate, qualified for the role or not. This is a very important factor in not only how we advertise our available opportunities, but also what our expectations for candidate traffic can be based on a few key ideas. Our focus will be on how a job ad is not a promise; it's simply an introduction. The only way to attract a top performer is to write an ad for one.
When a candidate uses Indeed, or any other major job board, they will be able to see thousands of ads in a matter of minutes. The algorithms of these platforms will optimize the results to show the candidate ads that match their preferences (not their skillset; they have an opportunity to choose what is shown to them). With that being the case, we must consider this: the candidate will see ads that they feel they are qualified for and will choose to apply to the most competitive of those ads. This is why I encourage our clients to craft ads with a top performer in mind. I will lay out two brief, over-simplified examples for a Licensed Insurance Sales Representative ad: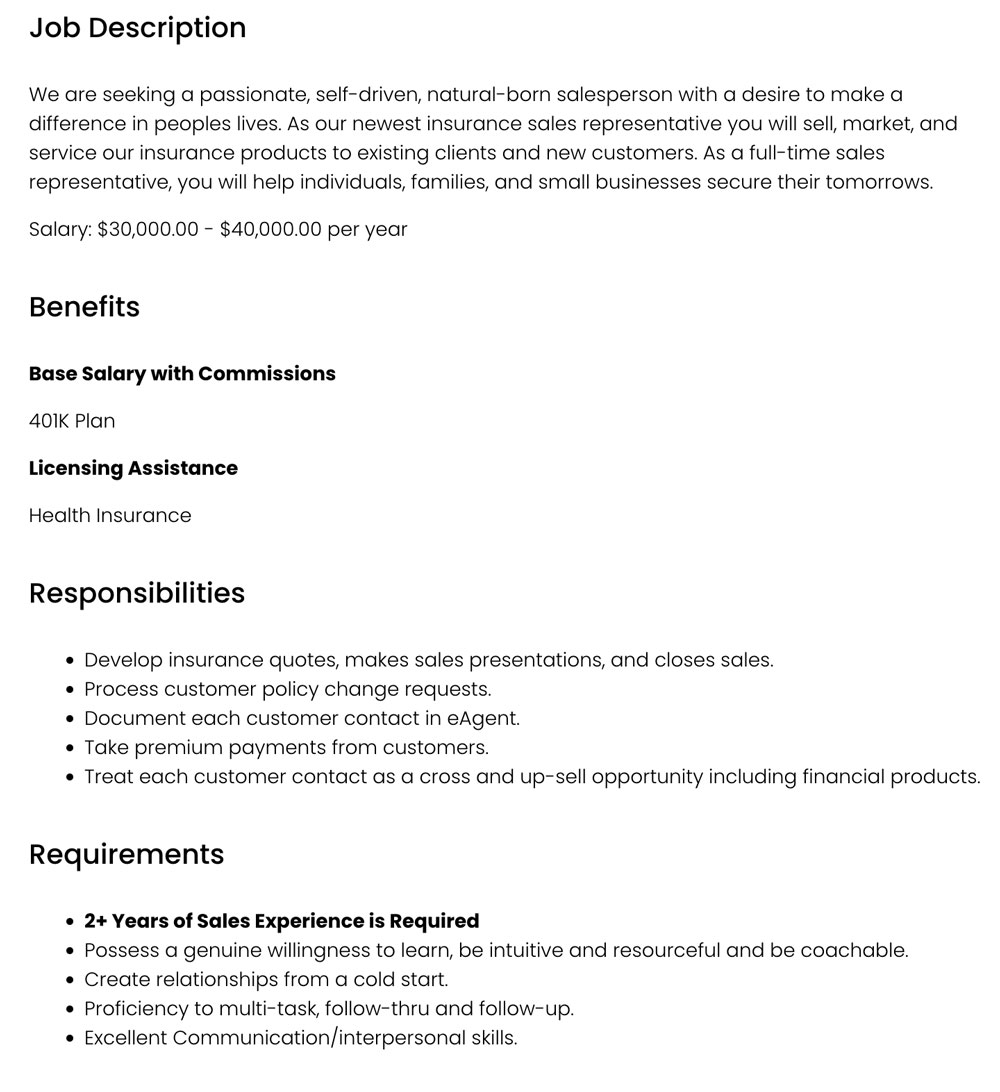 I see an ad like this a lot, and I have to ask: is the person we are imagining applying for this a Top Performer? After further conversations with clients about lack of ad traffic, we will often learn that someone at the agency does work from home once in a while; that last year the top producer cleared over $80k in total compensation with a record year while your lowest earner that maintained their job and met goal made a $35k base and $25k in commission. That the last successful hire they made was trained 100% in-house and meets or exceeds their sales goals regularly. It often comes down to a fear of getting burned or of making a bad hire. We want to get as many conversations started as possible; don't limit yourself by assuming how a candidate would describe themselves.
In the current insurance hiring market, I'm not surprised to learn that agents with ads like this are not seeing the traffic they hoped to, and I feel it comes down to one question: if you were a seasoned insurance sales rep working for another business or trying to get back into insurance sales, what ad would you see yourself in? With the ad above and the details about this hypothetical agency, let's try to rewrite it for a top performer.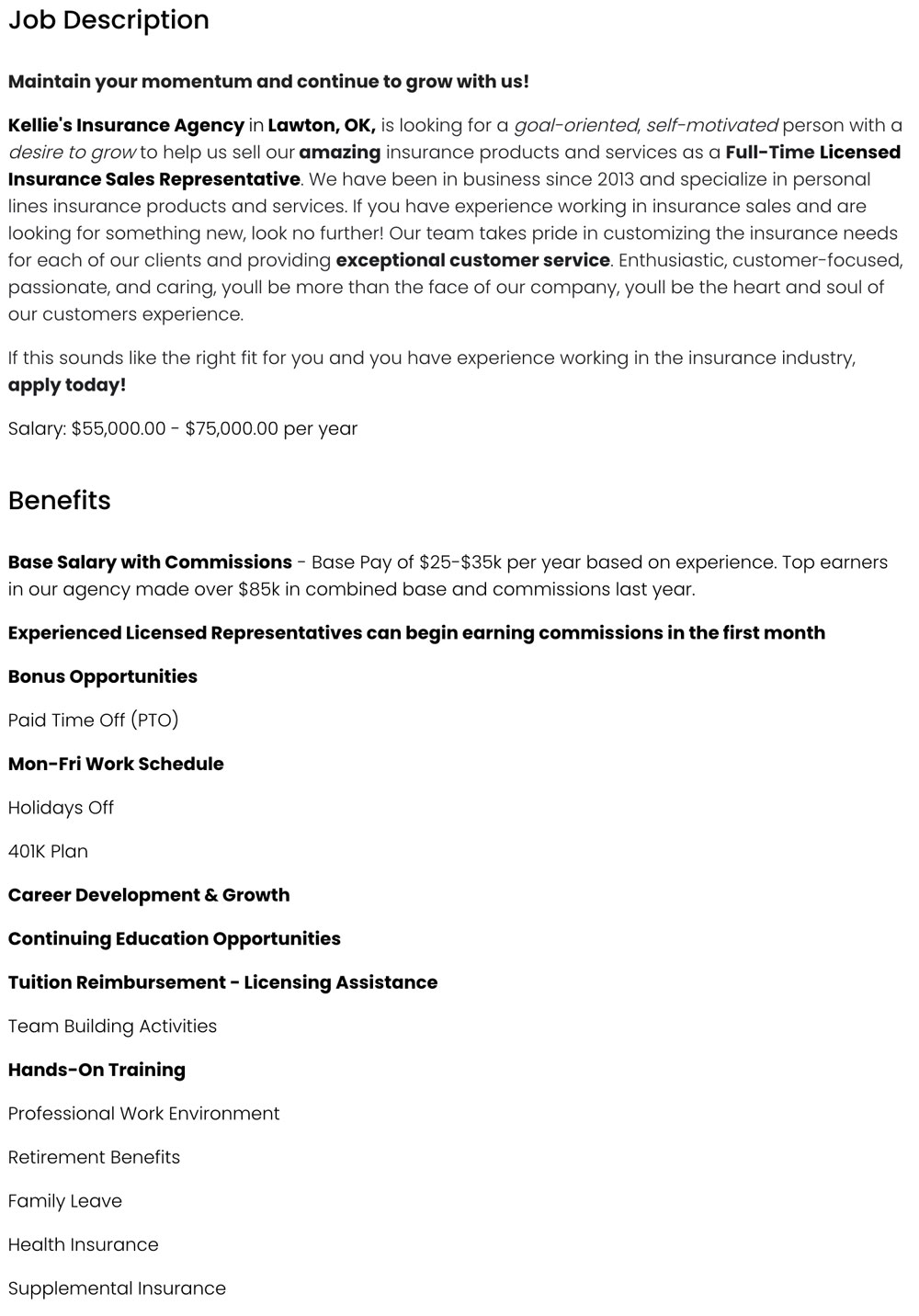 ---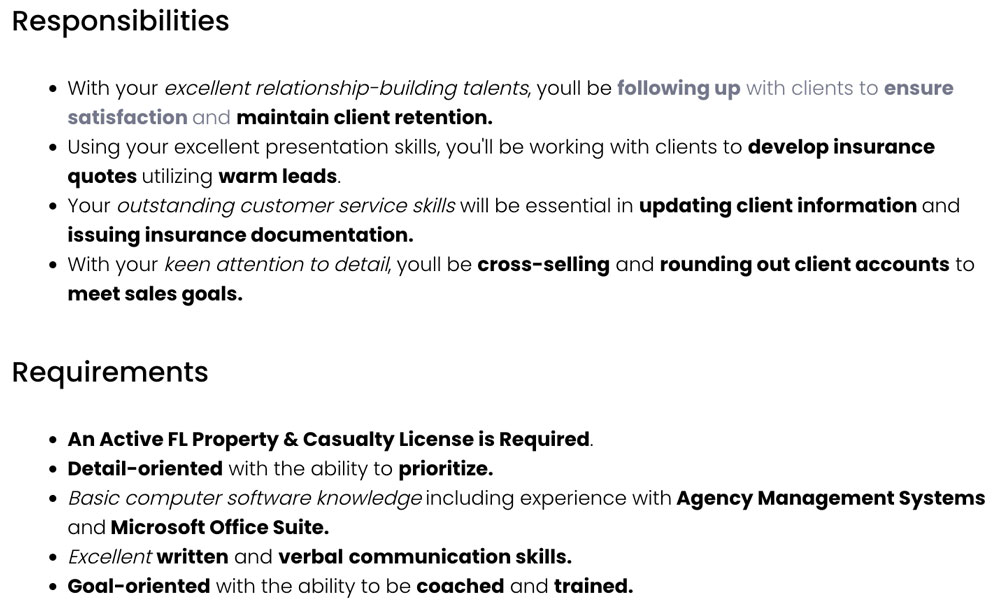 The first ad looks like the employer has one foot in and one foot out; they appear uncertain about how they would reward a top performer. (At least from seeing that ad). When we think of our next hire, we all want someone who is dependable, adaptive, and motivated. A candidate with those attributes knows what they bring to the table. Talk about your "Top Earners" pay and I'd bet that the next hire to come in and set new sales records for your agency would describe themselves as a "Top Earner" from their last role. It's about how the candidate would describe themselves that matters.
Now to address the elephant in the room: "What to do with all these candidates that applied to my ad for a top performer? I am getting so many unqualified folks. This is why I try to be cautious when advertising an opportunity. I only want to hire the right fit."
I can appreciate this perspective, but I feel it is off-base in one major way. You cannot have an opportunity to sell yourself on a chance to work for you to a candidate that doesn't see themselves in the ad. An ad is about starting a conversation, not making a promise of anything, to anyone. You don't have to hire the restaurant worker that applied to your experienced Commercial Lines Producer ad; you are not promising them anything by allowing them to apply. (Not to say that they wouldn't be a great fit for a service or personal lines sales role with the right assessment outcome; they obviously consider themselves to be a top performer in their current role and want to move up.)
However, you won't catch the biggest fish with the smallest lure. Occasionally, you may need to release a small fish that took a shot at a lure that was too big for it, but you're never gonna catch that trophy on a pan-fish lure.